The gracious Agnes, fellow Melbourne-based food blogger of the always very readable
Off the Spork
has
passed onto Spot4Nosh
the E for Excellent Blog award. Thanks Agnes! It is most gratifying to know that there are folks out there who enjoy the blog. I certainly enjoy adding to it since that means we've had yet another memorable (good or bad, no matter) food experience!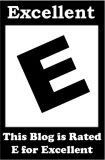 I would like to pass the E for Excellent Blog accolade on to Lucy and her blog
Nourish Me
, also from Melbourne. I'll have to be honest and say that I'd only recently truly discovered her blog, but have since remained charmed. Most of the meals we enjoy and write about in Spot4Nosh wouldn't exactly be classified as healthy or particularly nourishing (if that's all we ate!) so Lucy's poetic and meditative reflections on much more wholesome foods, and her lovely photographs, are all the more appreciated. I feel purged and refreshed everytime I visit!